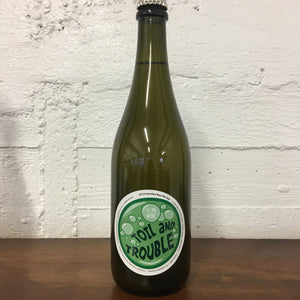 "Double, double toil and trouble;
Fire burn and caldron bubble." - Macbeth
"Toil and Trouble is our first Pet Nat, it is made from Sauvignon Blanc picked in the Bridge Pa Triangle at around 20 brix (making for a svelte 10.5% abv). Crushed at the vineyard and shipped cold to the winery it was fermented in stainless steel with the addition of a splash of Martinborough Sauvignon Blanc juice to get the ferment going. It was bottled during fermentation with the addition of a touch of frozen juice to get the carbonation just right and has been aging in bottle for about 6 months. It is dry, tropical and crunchy with just a hint of funk."