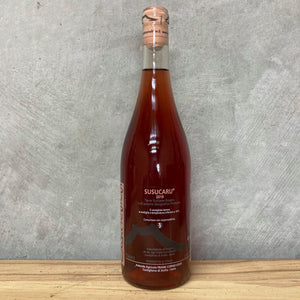 Susucaru is a legendary natural wine, made by Belgian Frank Cornelissen on the slopes of Mount Etna in Sicily. For more about the myth behind the wine read here.
Please note: This is the rose bottling of Susucaru and there is a strict limit of one bottle per customer. 

"Our rosé is produced with the same philosophy and vinification techniques as all our other wines: skincontact for texture and territorial identity, malolactic fermentation fully finished for density, fluidity and stability. Not only a refreshing summer wine from a blend of Malvasia, Moscadella, Insolia and Nerello Mascalese, as this is a "rosé" which can also be regarded as a light red, like a "Jura" wine, pairing well with a wide variety of dishes."
Region: Etna, Northern valley
Vineyard (s): Picciolo, Pietramarina, Calderara soprana, Crasà, Muganazze
Varietal (s): Malvasia, Moscadella, Cattaratto, Nerello Mascalese
Vinification: Destemming and light crushing of the grapes
Fermentation: starting with a "pied-de-cuve" using only indigenous yeasts and skin contact for about 10 days
Aging: In neutral epoxy tanks from 2500 liters to 7000 liters
Fining: No
Filtering: Before bottling with PE cartridges of 1 micron
Sulphur: values can vary from 5 to 30 mg/l., added or not, depending on the quality of grapes and stability of the wine.
Annual production: 25.000 bottles
First vintage: 2007
Denomination: IGP Terre Siciliane Rosato