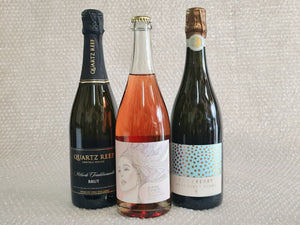 Let's celebrate! Nothing says fun, party times like the pop of a cork (or a crown cap!).
Here are three great NZ bubbles by three of our great wineries. 
Pop the crown cap on Beatrix for fun, fruity, light-hearted easy drinking in the sun. Rock Ferry Pinot Blanc Methode Traditionelle takes itself a little more seriously - and will work well as an aperitif or with your next seafood platter. The Quartz Reef Methode Traditionelle is a little more grown up again - a serious bubbles with plenty of the classic brioche flavour. 
Or just open whichever one you fancy whenever you fancy it and enjoy! 
Each pack contains
Alpha Domus Beatrix Sparkling Rose
Rock Ferry Pinot Blanc Methode Traditonelle
Quartz Reef Methode Tradionelle NV
Let us know its a gift and we'll throw in a cute card with your message.