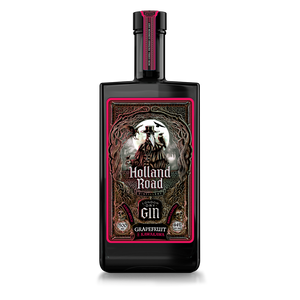 Holland Road are making nano-batch gins in their custom-made still. The process is hands on with enormous attention to detail - and particularly to the quality of the raw ingredients. These are gins where the aromatics and flavours are an integral part of the gin. Lovingly crafted and totally delicious.
This gin features a selection of traditional botanicals that are steeped in raw Kanuka honey for 12 hours then slowly distilled over a 6 hour period. The vapour passes through the botanical chamber infusing the gin with a combination of organic seasonal pink grapefruit and locally sourced native Kawakawa leaf. 
Made with a focus on producing a quality gin that would resonate with drinkers from all walks of life, This was awarded a Gold Medal at the 2022 New Zealand Spirits Awards. It has a distinct native bush scent and gloriously smooth mouth feel. It features delicate hints of butterscotch with refreshing citrus notes.