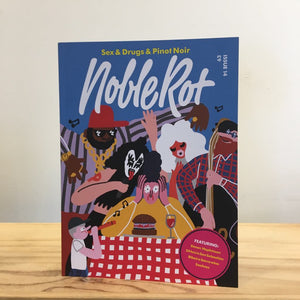 A righteous ride through the best food in wine, in Wine On The Edge we…
Visit Ribeira Sacra's vertigo-inducing vineyards, currently producing some of Spain's most exciting red wines. 
Meet 'the good cook' Simon Hopkinson over lunch at London's 6 Portland Rd.
Celebrate the last 30 years of British food in 30 iconic dishes. 
Have 'a quick snifter' with Belgium's finest electronic music makers, Soulwax!
Take a gut-busting tour of San Sebastían, the Basque Country's gastronomic mecca.
Meet the characters behind Russell Norman's favourite Venice restaurants and bars.
Ask a cast of Rotters including Diana Henry, Fergus Henderson and Rowley Leigh to invent some new words for our Food & Wine Dictionary, a must read for all those suffering from fallergies, waggamumbles, or simply obsessed with neagh.