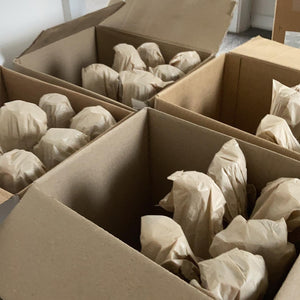 Merry Christmas! After so much demand in 2018 and 2019 the Cult Wine Advent Calendar is back for 2020!
Wake up each morning in the countdown to Christmas to a 1/2 bottle of amazing wine... all for just $549!
24 half bottles of wine to enjoy each day of December including a 1/2 bottle of Champagne on the 24th of December. That's less than $23 a bottle! It will include everything from frivolous fun wines to serious (and seriously delicious) cult wines.
The Cult Wine Advent Calendar is available to order up until 20 November with Calendars being dispatched from 15 November so they will be there for you on the 1st of December. This year the wines are packaged in a hand-painted box.  
Heres what people thought of the 2018 calendar:
"The cult wine advent calendar was great. Each bottle was wrapped up leaving each day to be a surprise. I found the selection varied well, from NZ classics through to harder to find wines which I had not tried before. The champagne was a festive touch. All the wines included drunk well and some had good bottle age." Sam
"A fun and very adult twist on an advent calendar. I particularly enjoyed the half bottle size of the wines, we saved a few of them as they are also great for summer picnics and traveling but unwrapping a new wine each day was heaps of fun! Definitely a good way to broaden your wine-horizons as we found some new favorites!" Kelli